MUNICIPAL SERVICES PERFORMANCE IMPROVEMENT
MuSSA
MuSSA Municipal Strategic Self-Assessment (MuSSA)
The challenges faced by South Africa in terms of providing sustainable, effective, and efficient municipal water services provision during a period of economic and population growth, urbanisation, environmental challenges, lack of skilled personnel, and inappropriate use of funds are challenges common to most of the developing world.
The Municipal Strategic Self-Assessment (MuSSA) tool supports improved business management and performance by the municipal utilities by conveying the current overall business health of water services and indicating the future likely performance of water services provision (early warning). Identified key vulnerabilities are addressed via the Municipal Priority Action Plans (MPAPs). The MPAP process supports effective and appropriate planning, and this is a key requirement for efficient implementation of solutions (especially considering limited resources). Importantly, the combined MuSSA/MPAP process allows national government to proactively provide support to municipalities showing signs of extreme distress, and furthermore to also proactively resolve adverse situations before they arise.
Water services provision in South Africa is the responsibility of municipal Water Services Authorities (WSAs), whom collectively face the challenge of rapid urbanisation, ageing municipal infrastructure, insufficient refurbishment, deteriorating operations and maintenance, and a lack of skilled personnel. An additional challenge to WSAs is the prioritised apportionment of scarce resources across the municipality's broader services delivery mandate, and how this decision making is arrived at by inter alia elected political officials, administrative staff and technical staff.
South Africa's Department of Water Affairs (DWA) facilitates an annual process across all municipal WSAs of establishing the baseline vulnerabilities affecting water services performance, via a Municipal Strategic Self-Assessment (MuSSA), and supports the resolution thereof via a Municipal Priority Action Plan (MPAP), with the key objective of rectifying weaknesses via a collaborative sector supported process.
The Municipal Strategic Self-Assessment (MuSSA) tool identifies water services vulnerability and therefore helps currently stressed municipalities in South Africa to prioritize what has to be done to enable effective, sustainable water services delivery.
MuSSA is completed annually for all Water Services Authorities (municipalities) in South Africa – An effective tool is essential when assessing a multitude of sites, subsequently collating and interpreting performance, developing and tracking required operational and strategic actions
• MuSSA focuses on assessing overall Business Health of WSA to fulfill water services function
• Determines Vulnerability Status of 18 Key Functional Business Attributes of Water Services Business at a strategic / high level
• Provides strategic flags (vs. deep technical detail, which is captured via other programs incl. Regulatory) as to Business Health
• 5 Essence Questions per each Key Functional Business Attribute
• Output indicates vulnerability score for each Business Attribute
• Additional output is an overall score: Municipal Vulnerability Index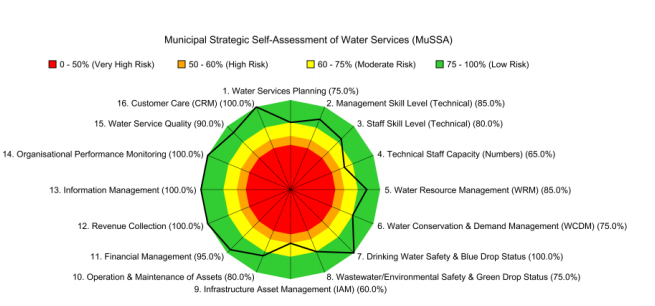 This quick and high level "business health check" has the ultimate objective of flagging "business vulnerability" such as to timeously facilitate and support the development of local, provincial and national strategies and actions relating to measures that should be put in place to resolve WSA "performance sustainability gaps". The MuSSA therefore compliments regulatory based programmes, such as Blue/Green/No Drop, and planning processes (such as Municipal Water Services Development Plans), by assisting municipalities, water services sector partners, and DWA to identify critical areas requiring attention and remediation.
The combined MuSSA / MPAP municipal water services performance improvement process has proven to provide great impact in terms of meeting the following key objectives:
• Provision of an easily interpreted and understood suite of "common language" outputs clearly indicating the business health of municipal water institutions; for easy uptake and use by technical officials, administrative officials, and elected officials.
• Determination and communication of clear and unambiguous areas of prioritized local government needs such that municipalities and national government can take proactive steps to rectify adverse water services situations that exist.
• To enable national government (DWA, SALGA, NT, etc.) to proactively provide support to municipalities showing signs of extreme distress.
• To provide high level insights to national government as to whether support and regulatory programmes are having the desired impact.
• Benchmarking of local government water services institutions status against local, regional and national levels.